UWC Costa Rica
Santa Ana Downtown, Costa Rica
175 Students
Aged 16-19 years
3 March 2017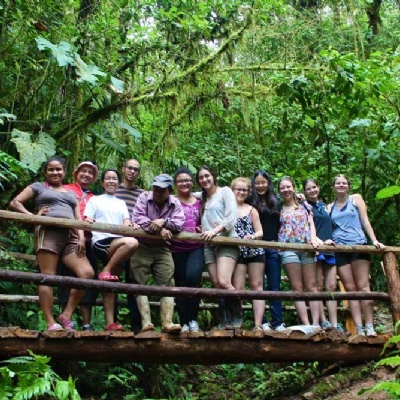 UWC Costa Rica used to be the SOS Hermann Gmeiner International College (HGIC), built for students from SOS Children's Villages across the region. In 2006, HGIC became UWC Costa Rica, committed to continuing its mission of supporting children from SOS Villages in Latin America alongside students from around the world.
Three Unique Features
Agents of Change Program - A two-year experiential learning adventure in which students become aware of their capacity for positive change, form their own project teams and partner with local communities or organizations while getting trained step by step in designing, implementing and evaluating a project from a social entrepreneurship approach.
Wellness Program - A multidisciplinary, multi-year, intergenerational school-wide initiative aimed at fostering a culture of social and emotional wellness for all community members.
SOS Children's Villages support - Every year, UWC Costa Rica offers 5 full scholarships to SOS Village students from around the world. So far, more than 50 SOS Village students have graduated from UWC Costa Rica.

In the Classroom
UWC Costa Rica is proud to be the only UWC offering the full International Baccalaureate Diploma Program (IBDP) in both Spanish and English. All students are expected to be able to communicate effectively in both English and Spanish when graduating from UWC Costa Rica. Students who already have a good command of both languages may study one or more other subjects in either Spanish or English and thus qualify for a bilingual diploma.
Alongside standard courses, UWC Costa Rica offers Cultural and Social Anthropology, Theater, Film, Visual Arts, Environmental Systems & Societies, French.
Outside the Classroom
UWC Costa Rica offers more than 50 different activities students can engage in. Additionally, all students must take part in the Agents of Change Program, established to provide students with the skills to successfully implement collaborative development programs.
Short Courses
UWC Costa Rica hosts the Leading with Heart camp which helps adolescents develop the knowledge, skills, and attitudes associated with effective and socially responsible leadership.
Campus and Facilities
The campus is surrounded by scenic mountains and a plethora of flora and fauna that make the perfect setting for a campus life that is safe, exciting, and diverse. Iguanas, armadillos, toucans, and other types of birds are part of the daily life on campus.
UWC Costa Rica has eight residence halls, all named after famous Costa Rican beaches. Each residence accommodates 24 students and includes with 8 rooms, two bathrooms, a common area and a fully equipped kitchen per residence hall. Other facilities include an amphitheatre with an 807 square feet stage, a library, a social centre, basketball and soccer playing fields.
Geographic Setting
Twenty minutes away from San José, Costa Rica's capital and ten minutes away from a state-of-the-art hospital, UWC Costa Rica's campus is nestled within the friendly neighbourhood of Santa Ana: an extremely safe and caring community that has taken the College under its wing.
Contact Details
---
Santa Ana downtown,
from the north-east corner of the local church,
400m north
San José, 10901
Costa Rica